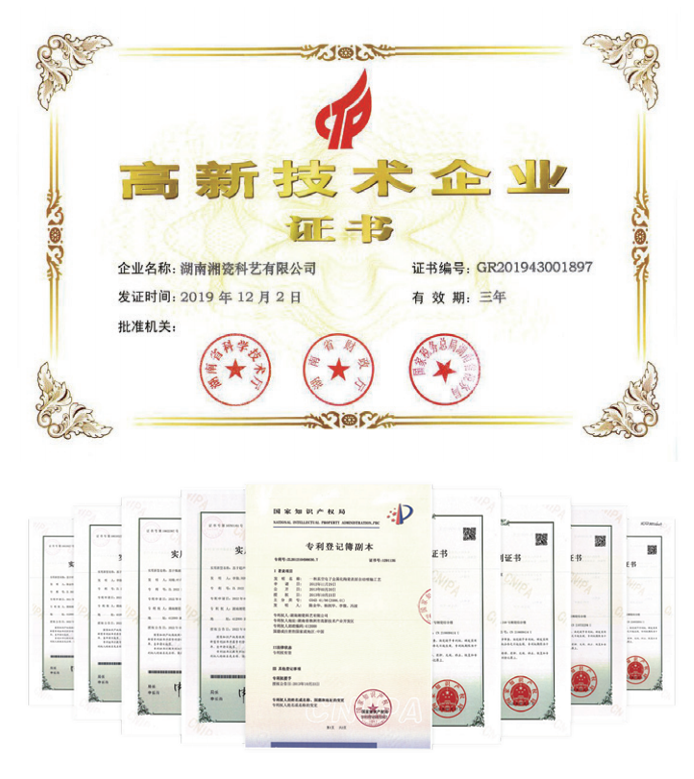 Technical Strength
Innovation makes the engine of enterprise development. The new and old employees of XCSA has devoted themselves into exploring and researching & developing in technology, constructing a complete independent research and development process technology system, and forming a strong technical advantage. Up to now, more than 300 scientific research achievements above the provincial level, including 6 state-leveled awards, 110 provincial awards and more than 30 patents have been pocketed.
(1) Formulation system: The company independently developed and applied a variety of ceramic formulation systems, including Al2O3 series ceramics, AlN powder and ceramics, Si3N4 ceramics, strontium titanate ceramics, etc.
(2) Molding technology: the company has a variety of ceramic molding technologies such as isostatic pressing, dry pressing, heat pressing, casting, etc.
(3) Sintering technology: ceramic grain control technology and ceramic low-temperature rapid firing technology.
(4) Glazing technology: unique high temperature glaze formula to meet all kinds of special needs.
(5) Precision machining technology: ceramic dimension precision machining, ceramic surface mirror processing.
(6) Metallization technology: high temperature active molybdenum-manganese method; Tungsten slurry thick film printing; Electroplating and electroless plating technology of nickel, copper, gold and tin coating can meet different product requirements.
(7) Sealing technology: according to the application requirements of different products, the structure, size and sealing method of various component materials are designed to improve the sealing strength and vacuum tightness of ceramic metal.
Add:No.228, Zhujiang South Road, Tianyuan District, Zhuzhou City, Hunan Province

QR Code of WeChat Social